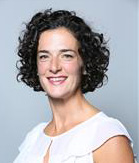 Welcome, Families, to Springhurst Elementary School,
At Springhurst, we are committed to teaching the whole child. We offer not only a strong academic foundation, but a rich social and emotional experience as well. In support of our work and in recognition of providing a safe and nurturing school environment for all students, we have earned the Anti-Defamation League's "No Place for Hate" Award five years in a row!
The vision of the Dobbs Ferry School District, "Independent Thinkers Prepared to Change the World," informs our teaching and culture as we strive to develop independent, curious, and open-minded learners. We want students to think critically, work collaboratively, act ethically and become knowledgeable about the world around them. We do this in a variety of ways.
Within the classrooms, our teachers continue to adopt new and innovative approaches to teaching and learning, providing a rich and vibrant educational experience for all students. This year students in second grade will experience a new and improved approach to science as we begin to transition to become fully aligned to the new state science standards (now with each grade K-2). The remaining grades at Springhurst will transition as well with each subsequent year. Our science program is highly engaging and continues to be hands-on and a constructivist approach to learning. We have also made enhancements to our Academic Intervention programing (K-5), and look forward to continuing our Science Technology Engineering Arts & Mathematics (STEAM) initiative expanding to both 4th and 5th grade as an optional recess alternative for students. Sustainability work at Springhurst continues and we will also be exploring mindfulness this year!
The Dobbs Ferry Schools Foundation (DFSF) is responsible for an exciting development at Springhurst that will take place later this fall! Namely, a $70,000 revitalization of our classroom libraries that has been made possible by their incredible generosity! This gift will have a deeply positive educational impact on Springhurst students for years to come. Our heartfelt thanks to the DFSF and to all of you who so generously support the Foundation. Additionally, I owe a debt of gratitude to our committee who worked diligently to select new high quality texts for this order that were representative of various cultures, diverse perspectives, and appropriate for each grade level.
We are proud to have a number of incredible special programs at Springhurst including music, arts, athletics, technology, library, and a variety of enriching extra-curricular offerings such as Math Olympiad, Harmonaires, Destination Imagination, Student Government, Digital Media, Ecology, ELA and Math Academies & springtime Enrichment Clusters.
Springhurst is a special place where young minds are inspired and challenged, and all students are enabled to experience success. Be assured that your children will flourish at Springhurst thanks to the superb and highly-qualified staff and to the bountiful resources and opportunities that await them.
I look forward to partnering with you to help your children grow and excel throughout the year and for many years to come.
Sincerely,
Julia D. Drake
Principal